Covid-19 Updates
Welcome to All Saints COVID-19 Update Page. Here you will find all resources available to our parish regarding the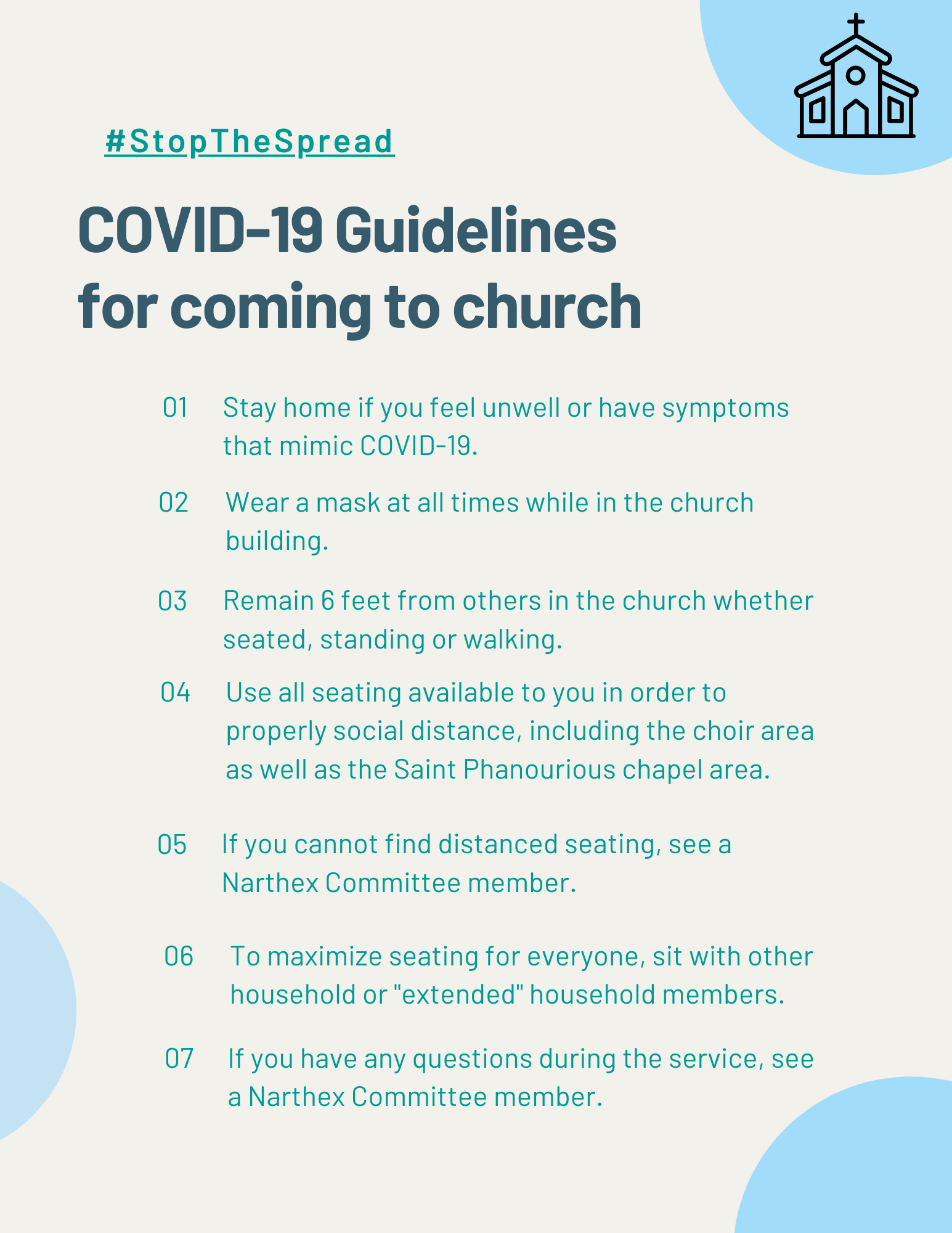 reopening phases of our worship spaces and parish activities.

The documents and policies you find here are the governing documents of our parish as directed by the Greek Orthodox Metropolis of Pittsburgh. Please remember that the Church is governed by its Hierarchy, not by the State or local government. While Washington County may move into new "Pennsylvania State Phases" quickly we, as a church must remain under the policies set forth by the Metropolis until new guidelines for further loosening of restrictions come directly from His Eminence.

It is with great joy that I share with you that we have received the formal permission of His Eminence Metropolitan Savas of Pittsburgh to open our parish into the "Green-Phase." While our time in the "Yellow Phase" was short lived, we provided ample evidence that the faithful of All Saints are willing and able to follow guidelines for the safety of themselves and others. Our parish leadership team - Clergy, Parish Council, Staff and Ministry Volunteers - are working together on your behalf to enact these measures so that all who meet the criteria and wish to return and resume community worship and, yes - receive Holy Communion after so long - may do so.
We have heard from many of you that you are in fact ready to return to Church, but we also know many of you have your hesitations and are not yet ready to do so. These are personal decisions made by each individual or family. Each person is to find their own peace of heart and mind to re-enter without judgement. The doors will be open whenever you are ready!
First and foremost, we welcome back all our faithful members of All Saints. Those of you who have been restricted by your age are now welcome to return home to your parish. Those 65 years of age and older are asked to do so with precautions and it is suggested that those with underlying and pre-existing conditions consult their medical physicians before returning. By entering the Church, you do so knowing all the risks involved.
The attendance restriction of 25 people/per space has been lifted. We are now allowed to fill our church to 50% capacity. Certain areas and pews are still blocked off, but adequate distancing will still be enforced to meet this requirement.
Please read all the documents below to understand the "Green Phase"; its guidelines, restrictions, modified parish processes', etc.
DOCUMENTS:
Ongoing COVID 19 Protocols for All Saints
"The Road Ahead: Metropolis of Pittsburgh Green Phase"
"Returning to Worship - Green Phase"