"Welcome one another, therefore, just as Christ has welcomed you, for the glory of God." Romans 15:7
Through this web site, we are pleased to be able to introduce you to that same worship and fellowship as it is expressed in the life of our Parish. If you are a new member of our parish, or are considering membership, these web pages will acquaint you with what our parish offers to those who give it support and sustenance; to those who already belong to the church, we hope they will provide you with the assurance that your sacrificial offerings are received with profound respect, and are utilized to maximum effectiveness. They will, in any case, enable you to make the informed decisions that are necessary for a meaningful relationship with your church!
---
* Click HERE to see our Parish Calendar and follow all of our daily events.
* Worship Schedule
Sundays & Weekdays: Orthros (Matins): 9:00 AM| Divine Liturgy: 10:00 AM
For information on our Worship Servicesplease contact the Church office at (724) 745-5205 between the hours of 9:00 AM - 4:00 PM, Monday through Friday.
* Click here for the Saturday of the Souls Names Prayer Sheet
* Click here for Kollyva-Making Class
Upcoming Worship & Events
Holy Week: Strict Fast
Apr 21
Bridegroom Service/Ακολουθία του Νυμφίου
Apr 21 7 pm
Bridegroom Service/Ακολουθία του Νυμφίου
Apr 22 7 pm
Bridegroom Service/Ακολουθία του Νυμφίου
Apr 23 7 pm
Sacrament of Holy Unction/Ακολουθία Ευχέλαιο
Apr 24 3 pm
Bridegroom Service with Anointing/Ακολουθία του Νυμφίου Μέτε Εχελαίου
Apr 24 7 pm
---

---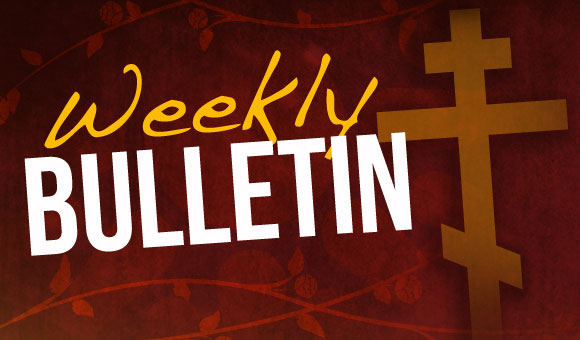 ---

Become a Steward/Supporter TODAY!
Tutorial Video From Fr. George on how to Pledge online
The success of our Ministry is grounded in the committment of our Stewards/Parishioners and Friends of the Parish throught unselfish offerings of Time, Talent, and Treasure. We would love to have you as a valuable supporter of our Ministry. Go to the Stewardship link at the top and become one TODAY!
---